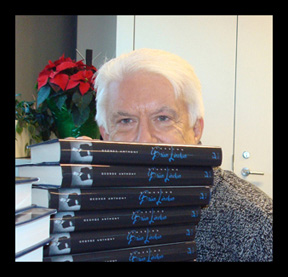 About GEORGE ANTHONY

Montreal-born writer and producer George Anthony enjoyed a long, successful run at the Canadian Broadcasting Corporation as a network cheerleader for such television series as Made In Canada and Scales Of Justice, such feature films as 32 Short Films About Glenn Gould and Douglas Coupland's Souvenir Of Canada, and such TV movies as Shania: A Life In Eight Albums and Celine.

Canadian programs under his aegis have won more than 100 Gemini awards and an impressive array of other honours, including the Prix Italia and a number of international Emmy Awards. At CBC he played a key role in bringing Canadians such hit programs as Royal Canadian Air Farce and This Hour Has 22 Minutes, as well as high-rated specials for Anne Murray, Celine Dion and Shania Twain. Before his careers in television, which include a five-year-stint hosting his own interview show on Global Television, Anthony made his mark as a founding member of the Toronto Sun, and quickly became its best-read entertainment columnist and critic.

Although his professional history also includes stints in film production and public relations, he returned to writing in 2005, resulting in his critically-acclaimed McClelland & Stewart biography STARRING BRIAN LINEHAN. On television he currently serves as CBC's creative point person on the network's highest-rated comedy series, the Rick Mercer Report, watched by more than a million Canadians every week. Anthony is also developing a provocative new dramatic series and is already working on his next book.

For almost two decades Anthony's opinions on arts & culture have been sought by readers who fondly remember his columns in The Toronto Sun. By George, his first-ever
blog
, is creative arts comment and criticism for 21st century users.